---
Announcing the latest Release of feature and functionality enhancements to the trading platform.  These allow for more customizing ability and streamlines functions on accessing or displaying information.  Highlights include:
Screen for Weekly Options – The ability to screen for weekly options has been added to the Screen Function under Find.
Rearrange Screener Data Points – Change selection order directly on the Results page, by drag/drop action.
Large Chart Widget on Custom Page –The new widget fits an entire row on the custom page.
Customize Moving Averages – The Moving Average thickness can now be customized.
Vertical Zoom on Chart – Function expanding to allow for Horizontal and Vertical Zoom.
Double-click function on Expiration Cycle Page –Eliminates need to click "Okay" button
---
Screen for Weekly Options
The Screener – located under the Find Tab – now provides the ability to screen for Weekly Options.
Now customizing your own searches is even better!
Remember, you can save Screens for future use – and even edit/update them as needed.
---
Rearrange Screener Criteria
Rearrange Screener data points on the Results page by clicking

located on the upper left corner of each data point, then drag up/down.
The data points are filtered with each entry in the order they are listed.
Additional edits can be made with the existing Screener data points:
Click

to keep the data point but disregard in an updated "Run Search".
Click

to remove the data point from an updated "Run Search".
Save to keep the edited Screener for future use.
---
Large Chart Widget on My Custom Page
An individual chart can be set on an entire row on the Custom Page by selecting the Large Chart widget.
The Custom Page set-up and arrangement remain the same.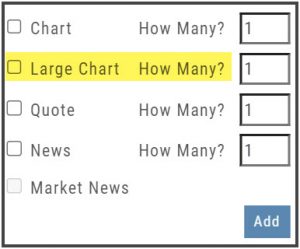 ---
Customize Moving Average Lines
All Moving Average Indicators,  Exponential, Simple, Triangular and Weighted can be customized to set Line Width.   The default setting is '1'.
This update, along with previously added, user-defined "Line Type" allows for even more identification in charting analysis.
---
Expiration Cycle Double-click Functionality
Quickly access one or more Expiration Cycles by double-clicking on each row you wish to evaluate.
The selected dates will automatically display on the Chain.
Click "Expiration Cycles" button again to revise/add to existing cycles.
---
Vertical & Horizontal Zoom Functionality
Change Log
Corrected "Extend By" behavior on Chart with Streaming
Created ability to reconcile partial trades
Updated Annotation editing capability when adding text
Resolved Edge browser/Annotations conflict
Volatility Stop Indicator – expanded
Fixed navigation break: Chain>Chart>Chain
Analyze function restored on certain strategies
Alert tool-tip correction
Adjusting Parallel lines now saving
Corrected Pending/Executed Order on Chart display