Market Order are Buy or Sell orders to be executed immediately at current the Market Price.  Execution of the trade is more important than price.   As long as there is a willing buyer or seller, the trade will be executed.
Limit Orders (including Net Debit and Net Credit) allow you to set the Maximum Price to Buy or Minimum Price to Sell a security .  Because these orders have 'limits' they may not be executed.  When they are, they will be executed at the Limit Price – or better.
Low Volume, a slow or very fast market may mean your Limit Price may not be reached and thus, your order not executed.
Stop & Stop Limit Orders
These are protective orders, to be placed on a current position.
A Stop Order becomes a Market Order when the Stop Price is reached.   This does not mean you will get the Stop Price when the Order executes.  You are willing to Buy/Sell at any price once your Price is reached to have the Order execute. 
A Stop Limit Order generally offers more protection:   Once the Stop Price is reached, the order converts to a Limit Order to execute once that price – or better- is reached.   Thus, there are two values to enter on the Order Ticket for Stop Limit Orders.
How to enter a Stop Order/Stop Limit Order:
On the Positions tab, click "Close" for the Stock/ETF entry you want to add a Stop/Stop Limit Order to.  You'll be navigated to the Order Ticket tab to continue.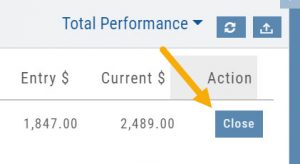 On the right side of the Order Ticket (Exit Order):
1.  Change Exit Condition from default "Limit" to "Stop" or "Stop Limit"
2.  Enter Stop Price.  For Stop Limit Orders,  the Stop Price will be the higher of the two values.
Enter Limit Price, if applicable.
3.  Change Duration from Day (default) to GTC (which may vary by brokerage)
4.  Review & Submit
Notes:  As long as it's not a Day order, the Stop/Stop Limit order will remain Live until you cancel the order or it executes*.   (Some brokerages have expiration dates on such orders)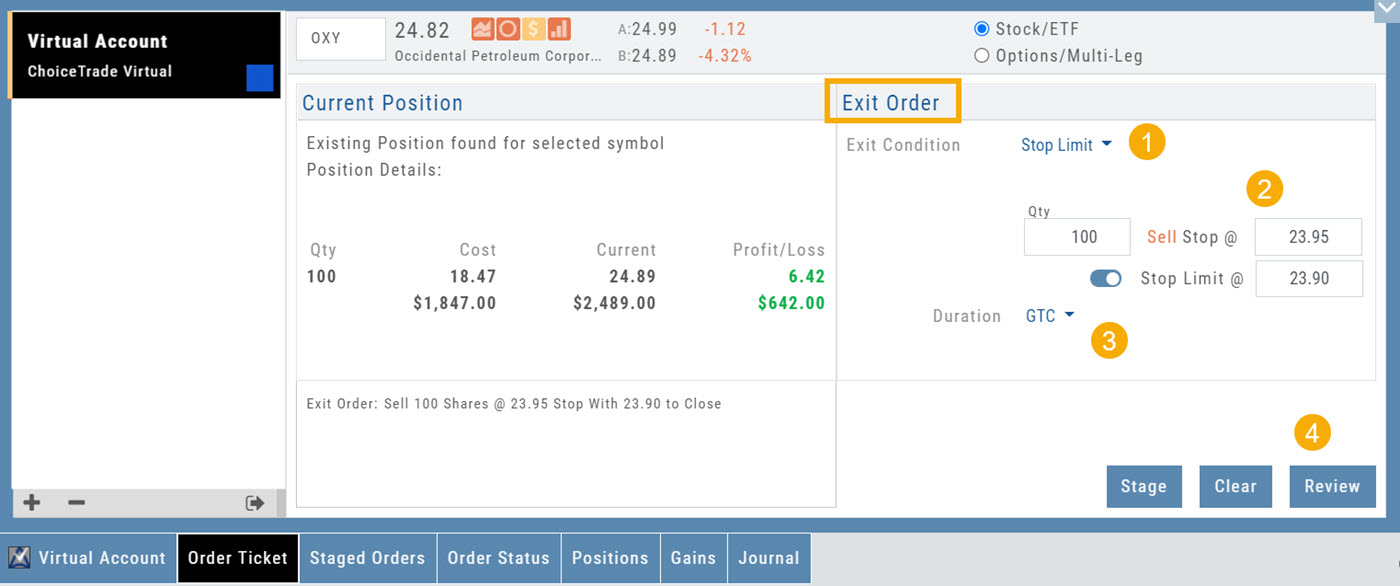 Trailing % and Trailing $
As the names suggest, these orders follow trades upward by a set $ or %.  They are placed on a current position.    Click "Close" from the Positions Tab, then follow the steps below:
1.  Change Exit Condition to "Trailing % (or $)"
2.  Enter price or percentage to exit trade
3.  Select Duration (Day/GTC)
4.  Review, then Submit
This will be a Live Order until it Executes, Expires or is Cancelled.