Accessing a live account is easy.  Currently Choice Trade, Tradier, Ally Invest (formerly TradeKing) and TD Ameritrade and E*TRADE are offered through this platform.  More brokerages will be added. (Tastyworks is in the process of upgrading their system to be able to communicate with the platform).
To add an Existing Brokerage Account or add a Virtual or Manual Account:

1. Add Account by clicking (+) from the Broker Menu
2. Select your Brokerage, Virtual or Manual Account & enter your Brokerage login information (Username & Password), if applicable
3. Read & Accept Terms and Conditions
4.  Click "Login"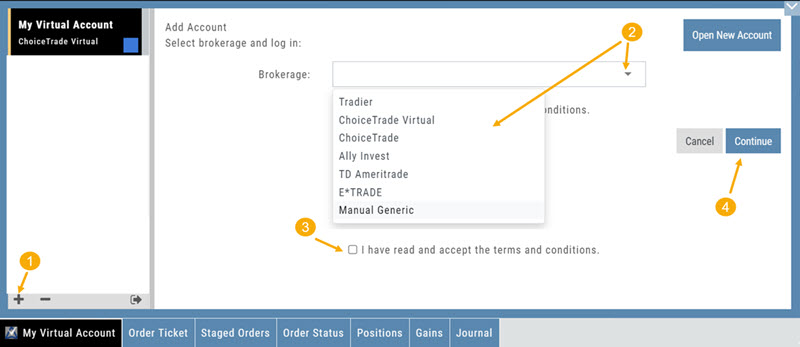 To add a New Live Account, click on the "Open New Account" box on upper right of screen, then select the brokerage account you want to add.
You'll be directed to the brokerage website to guide you through the process.