Click the Calendar and select any past Market date.  You can quickly choose a previous date by clicking on the "month" then arrow back by year.   The closing price for that stock will be displayed.
You are now ready to create the position to analyze – either by clicking "Bid" or "Ask" or by entering the quantity in the appropriate box(es).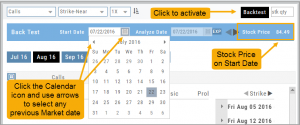 Note: In order to 'backtest', the platform needs to establish an orientation point in time.  If you change the 'start date', the option expiration cycle may change to re-establish the reference point in which to pull information from.