The Smart Action Icon

 adjusts available features depending upon where you are in the trading platform.
For Stocks you can 'Buy', 'Sell', view 'Options', etc.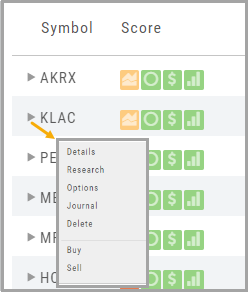 Any Strategy-specific options scan will have 'Analyze' and 'Trade' in the Action Icon Menu. You can click 'Analyze' to see the trade in the options chain. From there, you can Edit the structure or click 'Trade' to submit the trade to your to Brokerage Account and Journal.